Sunday Social is a fun & simple way to help your readers get to know you a little better.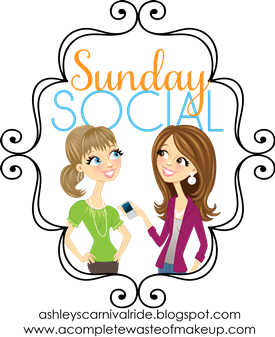 This week is about Thanksgiving!
1. What is your favorite Thanksgiving memory?
One year we made up a biscuit song because my sister just kept talking about biscuits, and every year after that we've sang it!
This year, I won't see my family because of moving to Florida, but the memories are just like it was yesterday.
2. What is your favorite Thanksgiving food?
Definitely my Grandma's stuffing, I could literally eat it all day every day.. it's absolute perfection.
She also makes this thing called corn bake, corn muffin mix, creamed corn and a few other things mixed together to make almost like a casserole (
this recipe
is similar to the one she uses)
3. What is a Thanksgiving tradition you and your family have?
On my dad's side of the family, grandpa used to always say grace, and when he passed away we've always said grace in his memory every year on Thanksgiving.
On my mom's side, when I was 13 or 14 my grandma told me and my sister when we were younger about "Thanksgiving sandwiches" - a layer of turkey, stuffing, cranberry sauce, mayo, salt & pepper on white bread.
We thought it sounded disgusting, until we tried it and were addicted - and ate them every year!
Now whenever I have one, it always brings back that fond memory of her.
4. Show us a favorite Thanksgiving picture from years past.
Well. I noticed we never actually take pictures on Thanksgiving because we are all usually stuffed & bloated pretty early in the day - and sleeping shortly thereafter haha.
The one photo I was able to find is from last year, it's me and my sister's plates.
Biscuits, corn bake, turkey, ham, baked mac & cheese, stuffed mushrooms, cranberry sauce, fried cauliflower... and that was just our first plates!!

5. What are you most looking forward to about this Thanksgiving?
This year will be very different from every other year, since I will not be seeing my family at all.
I will spend Thanksgiving with my boyfriend, my mom's best friend Rosie & her son - the only other people I know down here in Fort Myers!
We were invited to go to Rosie's friend's house over on beautiful Sanibel Island. There are kayaks at the house, so hopefully me and my boyfriend can go kayaking and explore a little bit :)