Oh my gosh I've been so busy getting things ready to start school, that I nearly forgot about Sunday Social! I usually type it out a week in advance, but my brain is fried right now!

Sunday Social is a fun & simple way to help your readers get to know you a little better.
You can link up with your blog at
ashleyscarnivalride
or
acompletewasteofmakeup
and join in on the fun! :)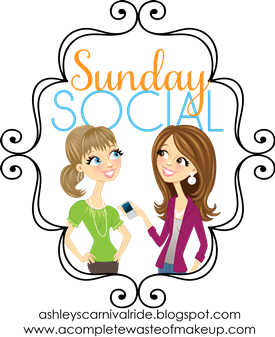 1. What is currently on your wish list?
Um.. a solitaire heart cut diamond on a white gold band? hehe
2. Share a new iPhone or Droid app you discovered that we all need:
I don't download many apps but I recently downloaded DecoPic.
It's a kawaii picture editor, so there are tons of cute little kawaii stickers and stamps you can add to your pictures!
3. What is a new Fall TV show that you have added to your DVR?
I don't have DVR because it's freakin expensive!
I would have to say I am pretty excited for Food Network's new season of The Next Iron Chef.
4. Share your social media links for us to follow you on. Which is your favorite and why?
I don't use Twitter because some loser took over my account and started posting vulgar things.
I would definitely have to say Instagram and Pinterest are my favorite.
You can find so many cute & creative things on there!
-Pinterest
-Instagram: @BadLuckBarbie
-Facebook
5. What is a TV show, movie or song that you could listen to over and over and never get tired of?
-TV show I would have to say Food Network's Chopped, or Diners Drive-in's and Dives.
-Movie.. there are so many but definitely Nightmare Before Christmas, Rocky Horror Picture Show & Anchorman are some of my faves.
-Songs is a hard pick for me, I will literally have the same CD in my car for at least a year.. but my most recent music obsession would have to be Pantera or Lamb of God (I'm sure you weren't expecting that one!)