Sunday Social is a fun & simple way to help your readers get to know you a little better.
You can link up with your blog at
ashleyscarnivalride
or
acompletewasteofmakeup
and join in on the fun! :)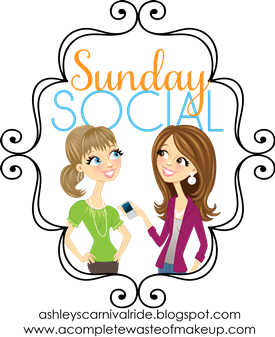 This week is questions about my blog.
1. What is the name of your blog? How long have you been blogging?
The name of my blog is Bad Luck Barbie, it was my AOL screen name since I was like 14 and for many years afterwards. I just always kept using it as my username for almost everything.
I've only been blogging since September so I am still fairly new!
2. Why do you blog?
I blog because I hope that my designs will inspire creativity in others!
3. What is the first blog you ever followed?
I was googling "gradient nail tutorials" and her blog came up.
I loved how great her nails were and she takes really excellent detailed photos.
4. What is your favorite post you wrote in 2012?
5. What are your blogging goals for 2013?
My blogging goals for 2013 would definitely be to stop slacking!
It's been challenging to keep up with my blog, reading blogs that I follow, school, having a broken phone and not being able to upload photos, and on top of it all.. I've been having to drive my boyfriend to and from work because his license is suspended because of some B.S. insurance thing back in Ohio.
I promise to be more active!
6. Name your top 3 favorite blogs.
I'm a little biased because Cassi is my BFF, but I really love her blog because she's a great writer. I have no clue about fashion and she keeps me up to date.
She is so funny, really cute and always has awesome posts!
She travels a lot and posts really amazing pictures from around the world.