Sunday Social is a fun & simple way to help your readers get to know you a little better.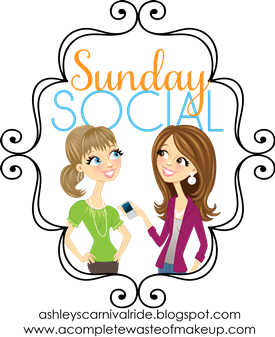 This week is questions in 3's
1. Top 3 favortite kinds of food?
Pasta of any kind! Mac & cheese, spaghetti with tomato sauce, I love it all!
Bagels (I am a carb addict) and Mozzarella sticks or anything with cheese!
This was what I made for dinner last night! Bacon chicken ranch Macaroni & cheese!
It was really good!
2. First 3 things you do in the morning?
Tinkle (of course!), take a shower & brush my teeth!
3. Last 3 things you do at night?
Wash my face, brush my teeth and kiss my boyfriend goodnight!
4. 3 TV shows you NEVER miss?
Sons of Anarchy, Game of Thrones and Boardwalk Empire
image via
5. 3 places you want to visit?
Only 3?!?! Honestly there are SO many places I hope to visit in my life:
Japan
- My boyfriends parent's live in Yokosuka
Philippines
- My boyfriend has a ton of family there
Italy
- a good friend of mine lives in Trieste
(Alaska and Hawaii are on my list too!)
image via
6. 3 people you can always count on?
I can definitely count on my boyfriend, that's why I love him so much.
But the only person I can count on 100% of the time is
myself
.
I've learned not to depend on others.
Make sure you can take care of yourself and you will never be let down!
Have a great Sunday :)