Sunday Social is a fun & simple way to help your readers get to know you a little better.
You can link up with your blog at
ashleyscarnivalride
or
acompletewasteofmakeup
and join in on the fun! :)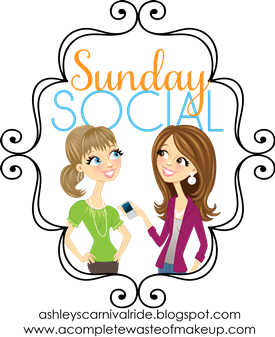 This week is random questions.
1. What is the wallpaper on your phone?
This picture of me and my bf.. almost makes me want to shave the side of my head again!
2. What do you keep beside your bed?
Cell phone, my glasses (I have horrible eyesight), my 3 rings and watch because I wear them every day!
3. What is your least favorite chore?
I would have to say washing the dishes..
It feels so gross, and the dishes are just going to all get dirty again in a few days anyway!
4. If you could eliminate one thing from your daily routine, what would it be?
Drying my hair!
I have awful hair and it never does what I want it to, so I basically always wear it the same style.
At least when the side was shaved, I had less hair to worry about lol.
5. What do you do to vent anger?
Usually throw things.
That's how my cell phone ended up breaking the other day.. oops.
6. What is your favorite holiday of the year and why?
I've said it a million times before, Halloween is my favorite.
I always have good memories of Halloween as a child,
and I love dressing up & seeing other peoples creative costumes!