Sunday Social is a fun & simple way to help your readers get to know you a little better.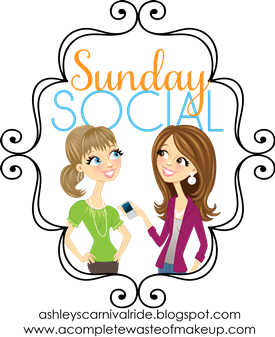 This week is all about Halloween! YAY!

1. What was your favorite Halloween costume as a kid?
I think I was 7 years old. I can vividly remember my mom's friend making me a
Cleopatra
costume out of felt and sequins and I think it had some sort of headpiece.
I don't think anyone really knew what I was supposed to be which is understandable because honestly... how many 7 year olds even know who Cleopatra is? But I thought it was totally awesome!
2. If you could go back and dress up as anything what would it be?
Two or three years ago I bought a bunch of stuff to make a
Jem
costume because I absolutely loved that show as a kid, and I have pink hair so that was a no brainer!
I never got around to sewing it, but I really wish I did!
3. Favorite costume as an adult?
She was executed by guillotine so of course I tried to make it look like my head was cut off :)
Me, my sister on the left, and another Marie Antoinette we met at a bar!
4. Favorite Halloween candy?
I always hated candy corn as a kid but now it's grown on me and I find it to be oddly addictive.
5. Favorite Halloween memory?
I don't really have just 1 favorite memory.
Halloween is my favorite holiday and I've partied almost every year with my sister & our friends.
6. What's your favorite scary movie?
I would have to say
The Blair Witch Project
because it was the first movie where the audience wasn't sure if it was real or not, but all of the trailers suggested it was real footage.
It was filmed from a first person point of view, which made it seem even more authentic.
We were pretty young when it came out so of course it genuinely scared the crap out of us ...until we found out it was fake!